Article from Empire Online:
The world of science fiction and fantasy art and design has lost one of its true legends as Ralph McQuarrie died today at the age of 82.

McQuarrie began his design career after moving to California from Indiana in the early 1960s. While he started out working as a technical illustrator for Boeing, he also found jobs designing film posters and providing animation elements for CBS News coverage of the Apollo space program.

An offer to work on concept art for a film project followed, and his designs caught the eye of director George Lucas, who had an ideal for a little movie about adventures in space. McQuarrie worked on designs for Star Wars before it was even known by that name and, in 1975, was commissioned to provide the now iconic designs for the likes of Chewbacca and Darth Vader, plus many concepts for the sets and ships. His art actually helped convince 20th Century Fox to take a gamble on Lucas' dreams, making him a key component in one of the most beloved franchises of all time.

"I just did my best to depict what I thought the film should look like, I really liked the idea," he's since said. "I didn't think the film would ever get made. My impression was it was too expensive. There wouldn't be enough of an audience. It's just too complicated. But George knew a lot of things that I didn't know."

Lucas naturally asked him to work on The Empire Strikes Back and Return Of The Jedi, and he even got to appear on screen in the uncredited role of General McQuarrie. But despite his close connection to the Star Wars universe, he declined Lucas' offer to return for the prequels, commenting that he'd rather hand the baton to a new generation of artists and designers.

Outside of Star Wars, McQuarrie worked closely with Steven Spielberg on Close Encounters Of The Third Kind and ET, providing the jaw-dropping designs for alien vessels. He also contributed to Raiders Of The Lost Ark and won an Oscar for Cocoon before moving on to work as either a consultant or the concept artist for such films as Star Trek IV: The Voyage Home, Batteries Not Included and Jurassic Park.

A true original, McQuarrie is survived by Joan, his wife.

McQuarrie's vision of a SW battle between Luke and Vader in a scene from a much earlier draft of the script.
His vision of the Cylon throne room of TOS BSG.
Another painting of his from BSG (the TOS Galactica landing bay).
Other credits of his included Battlestar Galactica (TOS; hence the above artwork), Close Encounters of the 3rd Kind and he even had a pass or two at redesigning the exterior of the revamped Starship Enterprise for Star Trek: The Motion Picture (his design was ultimately rejected, but a miniature concept model of his "Enterprise" appeared as one of the ships destroyed in the TNG episode, "The Best of Both Worlds" part 2).
Below: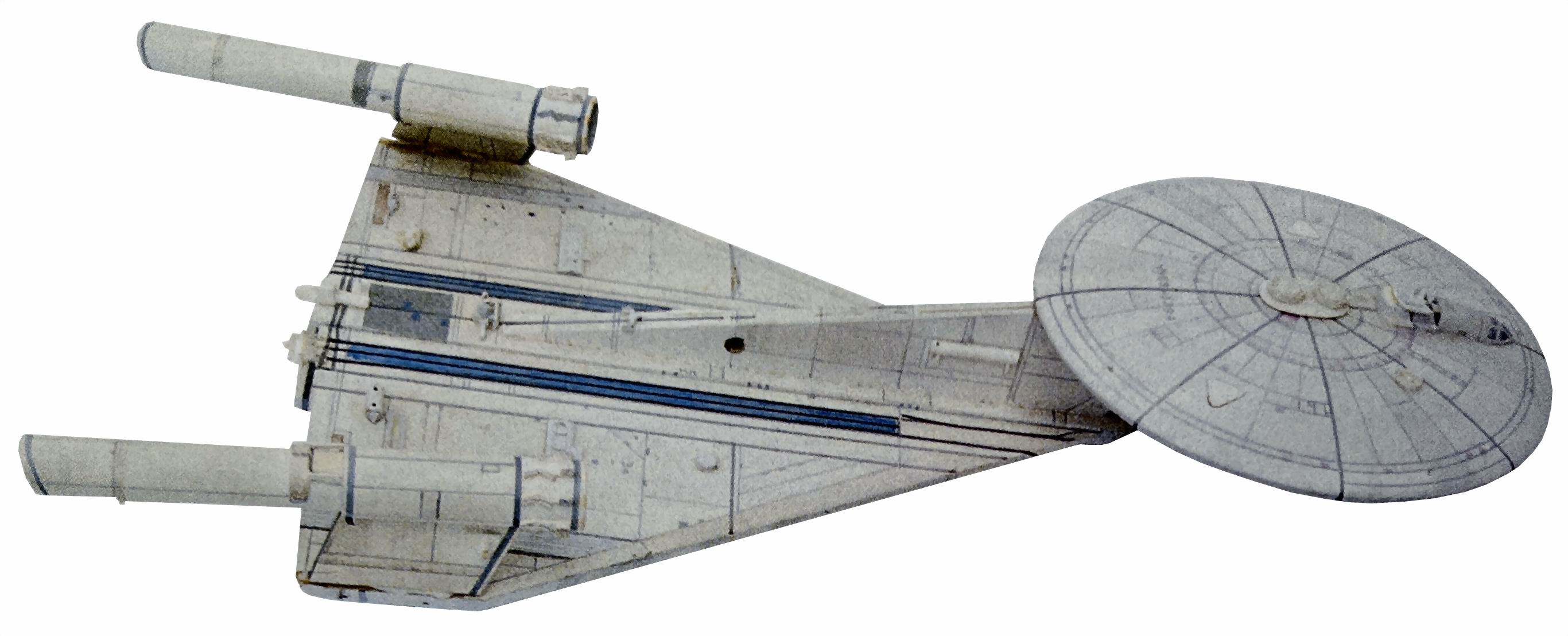 On a personal note? The prints of his portfolio of Star Wars production artwork (which were used to sell the movie to nervous studio execs in 1975) were made available for sale commercially in the late 1970s, and I am proud to say that I still have my copy of them. The foldover case is pretty tattered and worn, but the artwork inside looks almost as snappy as the day I'd bought it (slight yellowing at the corners). It was my hope to get them autographed someday. And while I regret that I never met McQuarrie, I at least have a small valuable collection of some of his stunning prints. They were one of my first 'art purchases' I'd ever made (I was all of 11 or so at the time).
I will treasure them ALWAYS.
RIP, Ralph McQuarrie....