23 August 2011
1 Comments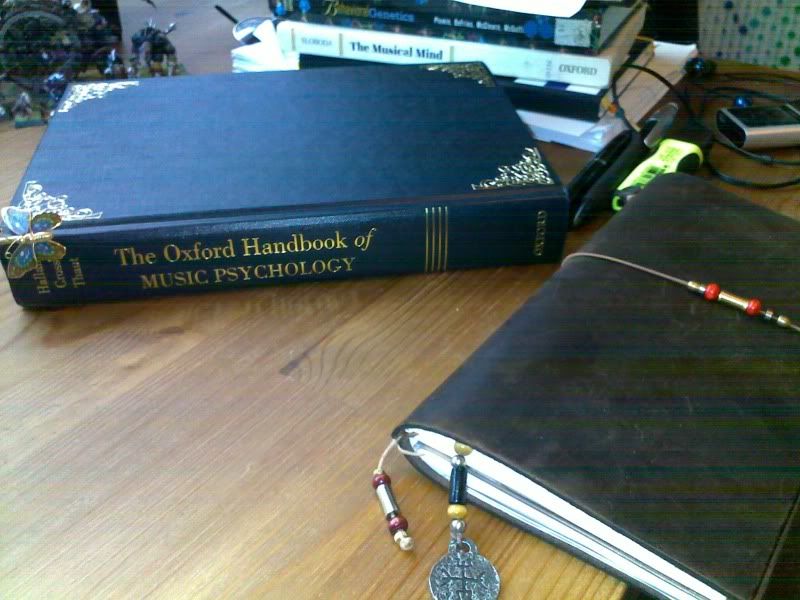 So yeah pretty soon I will have to return to my University to complete the second and last year of my masters program.
And the truth is, I'm looking forward to go back to work. Not that I have actually ever been not working....
This year I will have to do my research internship, I will do mine at a lab that is connected to the University of Helsinki.
Which means that in Januari I will be bussy moving and arranging the last stuff for my stay in Helsinki.
In this period we have to write a review about research published in your field of interest. But for the students who go abroad they adviced to start working on this in the summer period. Which is what I've been doing. I've read over 20 articles published on auditory information processing. From music rehabilitation in stroke patients to the structure of the Heschl's gyrus in musicians.
And today my Oxford handbook came in (I add the stickers on the cover to make it look that gay, don't worry ;)), which I've been reading through most of the day. Hopefully i can get that done before school starts officially.
So what's in store for this year? More cutting in dead people?
Afraid not LOL. No this year will be linked more to practical research skills and lab experience.
We start off with:
Practical Issues in Neuropsychological Research - What problems do we have (ethical issues, reliability, validity, blind assessment, intention- to- treat analyses) and how do we solve it.
Seminar Cognitive Neuroscience - The latest insights into topics such as working memory, multisensory perception, and the mirror neuron system will be covered.
Then we will deal with
Behavioral Genetics - theory and principles from population genetics and biometrical genetics will be introduced.
Neurogenomics - A follow up for Behavioral Genetics, learning to locate and analyze genes.
And then it will be Januari, time for the Review paper and the research internship and master thesis.
And then ... dun dun dun .... I shall officially be ... A MASTER OF SCIENCEEE *thunder, lightning in the distance*
1 Comments On This Entry
S
M
T
W
T
F
S
1
2
3
4
5
6
7
8
9
10
11
12
13
14
15
16
17
18
19
20
21
22
23
24
25
26
27
28
0 user(s) viewing
0 Guests
0 member(s)
0 anonymous member(s)