16 March 2012
4 Comments
Decided to go on a 'me-date' this morning; saw "John Carter of Mars" at my local AMC theatre (and against my better judgment, I saw it in
dreaded
'up-converted' 3D).
And to quote Spock, when sampling McCoy's beans in "Star Trek V"...
"Hmm... surprisingly
good."
*******SPOILERS!! SPOILERS!! SPOILERS!!********

For those not in the know, "John Carter" is based on the first in a series of books written by author Edgar Rice Burroughs 100 years ago (exactly, in fact; "Princess of Mars", the first book, was published in 1912). It's the tale of a Confederate (southern) Civil War cavalryman Capt. John Carter (Taylor Kitsch) in search of treasure who is unexpectedly whisked away to the planet Mars ('Barsoom' as it is known to it's natives). He befriends (after initial mistrust) a six-armed, green native named Tars Tarkas (memorably voiced by Willem DaFoe). He eventually falls in love with Dejah Thoris, princess of the city of Helium (Lynn Collins) which is at war with other humanoids on the planet who are being manipulated by demi-god puppetmasters (somewhat reminiscent of 2010's "The Adjustment Bureau").
John Carter is sort of a 'superman in reverse'; being from earth, he finds he is stronger and can jump higher in the lesser martian gravity. And in true Han Solo fashion, lovable rogue Carter eventually rises to the role of savior of the planet. It's the book series that inspired both the original "Buck Rogers" and "Flash Gordon" comic strips; not to mention "Star Wars" and SO MANY others since (the Geonosis arena sequence in "SW: Attack of the Clones" is a direct homage to a scene in
this
movie; straight from the book). One can even see small traces of Frank Herbert's "Dune" saga in it's DNA. So despite the WAVES of information about both Barsoom and the story that flow over the audience, the story is ridiculously quaint and simple: warrior from Earth goes to Mars, becomes a champion, falls in love with a princess, saves her people. Easy peasy. Now, onto the movie AS a movie...
First; an upfront warning; the movie is somewhat
long
(2 hrs and change) and it takes a while to
really
get cooking, but I was surprised by the end how much I ultimately
enjoyed
it. The characters take a long while to grow on you as well, but they eventually do; and they are well-acted to boot. Kitsch (despite an
unfortunate
name) channels his inner Han Solo, and Lynn Collins is so beautiful it's
insane.
And since it was written exactly one century ago, it's allowed (and TAKES)
much
poetic license with Mars the planet. As someone who's studied Mars for much of my life (as both amateur astronomer and Planetary Society member), you REALLY have to just check your modern knowledge of the planet at the door (no hyper-thin CO2 air, no deadly UV radiation, etc) and just surrender to the fantasy.
Many
grains of salt required.
The story is, as evidenced from the synopsis above,
very
old-fashioned and downright quaint (in a
good
way), but it's still resonates and hits many of the right buttons partly because of the
wise
decision to do it as a 19th century period piece (SyFy channel attempted a modern day retelling a few years back.... it was,
predictably
, a cheap, ugly, little
disaster
). Some of the action sequences of the film are surprisingly inventive and well-executed. This marks CGI-cartoon giant Pixar's first live-action movie; and you can tell by the total
photorealism
of the CGI characters). The light ships with their solar sails unfurled are, at once awesome and deadly, and a bit steampunk and
whimsical
as well. The post-production added 3D effect was kind of 'meh' (nowhere near as good as a
native
3D movie like "Avatar" or "Hugo"), but it was
decent
. You could easily enjoy it in 2D, no problem (in fact, during a couple scenes, I'd close one eye and see it in 2D... almost
no
difference, really). And I also liked the way the film used a young Edgar Rice Burroughs in a neat little framing story/device that bookends the tale with elements of non-fiction. John Carter is not merely a fictional character in Burrough's books; he is now Burrough's actual uncle, whose diary tells the story in flashback. In that way, "John Carter" kind of reminded me of "Time After Time" (1979) which had author HG Wells using his 'real' time machine (which is a prototype precursor to his eventual novel) to stop Jack the Ripper. Using young Edgar Rice Burroughs to 'bookend' the story of the movie creates a similar reality/fantasy 'blurring' effect.
Well
done.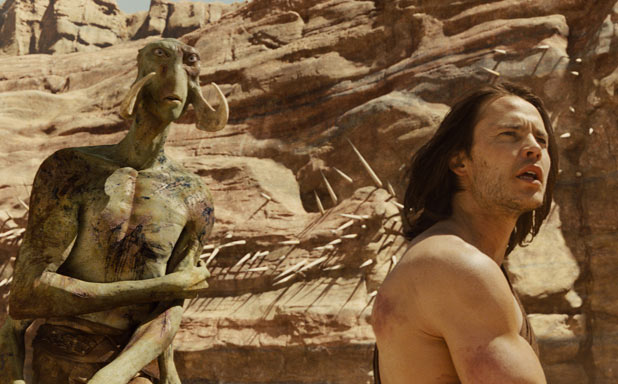 So despite uneven pacing, and a slightly overlong running time (which, in a weird way, also adds to it's 'epic' vibe), there is much to enjoy and love about "John Carter of Mars" if you're patient and allow yourself to be swept away by the adventure. It's the granddaddy that inspired them all. Now, god knows I'm the
nastiest
critic on GBBS (especially when it comes to entertainment), but as the credits started to roll? A well-earned
smile
crept across my face....
What made it even
better?
There was almost NO ONE else in the theatre (just myself and maybe 3 or 4 very quiet
older
guys like myself; we old folks don't make a lot of noise... we're that much closer to the grave
). I had some good snacks (my low-cal berry granola crunchy thingies and orange juice; my theatre has 'healthy option' snackage as well) and topping it all off? I scored two free John Carter posters in the lobby for free (a sad advantage of seeing a movie that isn't doing well; lots of leftover free swag). But it all helped to cap off a very (
unexpectedly
) enjoyable morning matinee...
This (above) is the design of the free poster(s) I scored in the lobby.
Thank you,
AMC Theatres...
4 Comments On This Entry
S
M
T
W
T
F
S
1
2
3
4
5
6
7
8
9
10
11
12
13
14
15
16
17
18
19
20
21
22
23
24
25
26
27
28
Recent Entries
"Shin Godzilla"; powerful new Godzilla movie for a new Japan....

on Oct 12 2016 10:26 AM

Independence Day Resurgence is big, dumb, retro-style entertainment...

on Jun 27 2016 08:49 PM

Batman V. Superman isn't exactly a knockout; more of a split decision...

on Mar 31 2016 08:56 PM

The Force is Wide Awake Now, After a Long Coma....

on Jan 03 2016 11:45 PM
0 user(s) viewing
0 Guests
0 member(s)
0 anonymous member(s)